Coca Cola Rewards Honesty: Part One
|
After last years global Happiness Machine campaign, Coca Cola has returned with an activation showing the good in mankind, and rewarding the pious with a beverage.
USA Happiness Machine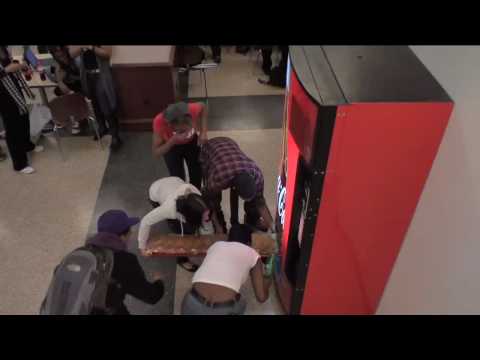 UK Happiness Machine
India Happiness Machine
Philippines Happiness Truck
To take it up a notch, Coca Cola unleashed a new campaign aimed at spot lighting the good of humanity, in an ever more selfish world. They deliberately left a wallet containing $100 to try to test people's honesty in a very crowded Lima district in Peru. (This is the 1st of many locations in the global honesty campaign).
Followers of PakMediaBlog weighed in:
Faisal Khan, a UAE based Financial Consultant
"a great idea that can be tried in Pakistan – though I'm not certain how successful it'll actually be. The brand team did it to associate themselves with "good". The ad shows the "goodness" of people who return the wallet… and coke wants their brand to be associated with that. I think the customers would like the ad; it affirms people's idealistic belief that there are still good people in the world which is what Coca Cola fans love to see first hand."
Sehrish Ali, Brand Management Intern at Unilever Pakistan
"The brand team has effectively communicated the brand proposition and innovated in terms of key insights derived. I don't think its feasible for Pakistan b/c most are on the lookout for cash; it depends on the location chosen, but as a whole i dont think anyone would return the wallet or money in a public setting; maybe at a party or mall. The brand team did it b/c they wanted to reach the consumer directly and consumers liked it because it had an element of surprise."
Syed Zubair, an undergraduate in management
"The video shows that people can be as caring for someone they dont even know, as well as with someone they already do. Success for the activation is possible in Pakistan. The brand team believed in people and in people's ability to care for others."
Khurram Abbas, GM Marketing of Five by Five Communications
"Liked it b/c it keeps us curious as to what will happen next, will they take it away or look for the owner and it brings a smile at the end. The coke experience at the end will surprise people and they will enjoy it immensely. The brand team did it in order to translate the message of opening happiness at the consumer level. Just by the look on peoples faces in the video, people loved it."
What did you think? 🙂